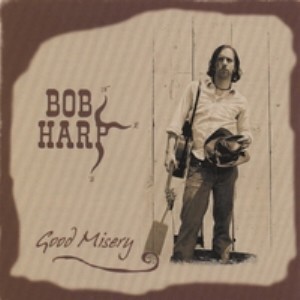 Imagine a dimly lit lounge, a place where smoking a butt is not only legal but encouraged. It's getting on toward midnight, and the sound of rain makes this room all the more cozy. The man singing plaintively to the crowd is Bob Harp. Steeped in the sounds of the Smokey Mountains, Harp's latest record, Good Misery, is a somber lesson in lost love and the trials of the heart. His soft strumming and expressive voice seem etched into a late-night scene like the one above. Only occasionally accompanied by a rhythm section, Harp's presence on the disc is raw and unmistakable.
Good Misery ranges from slow, acoustic ballads to spirited duets between Harp's exposed vocals and Anton Patzner's languishing fiddle lines. On "My Tease," Patzner carefully frames Harp's vocals, weaving in and out from behind the melody, and fleshing out the song's lyrical and musical themes. Steve Toomey's bare-bones drumming, and Harp's harmonica and slide guitar are essential to the album's laid-back tones, especially the warily optimistic "Record Store Girl."
The recordings on Good Misery are raw, stripped-down, and eerily vital. Although Harp is inextricably tied to such forebears as Bob Dylan and Nick Drake, he does not stand in their shadows. Harp's playing is unmistakably confident and sincere, assuring us that it's his voice and no one else's that we hear. Although the subject matter is often heavy on the heart, Harp is at home with his emotions, and when he says, "Everything's gonna be just fine," in that warm, acoustic drawl, we know that it already is.
Tags:
album review
,
bob harp
,
good misery