Hear Me Out, by Joel Streeter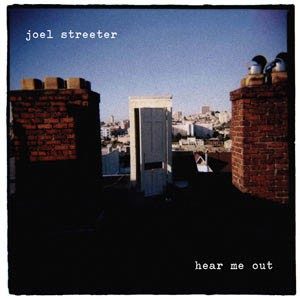 I always enjoy finding out that a good CD was recorded in a weekend. A result no doubt of most indie rock musician's inability to afford more studio time then absolutely necessary. Well, it also reveals the potential for a good performer. I would like to see this guy live. Joel Streeter's voice is not pristine, thank god, but slightly worn down and warm. Joel's down-to-earth voice is the perfect expression for his songs. Using several different styles of song writing from alt-country to Brit pop Joel adds to the album's morphological vision keeping Hear me Out interesting.
My only complaint is that all too often Joel's voice (hence the lyrics) gets lost in energetic layerings. I know that producers work very hard to achieve a smooth blend of all the layers that can go into a song, but I want to know what the artist is saying, so I like it when the vocals are bumped up just a little. That said, Joel's intent for each song is clear enough and the rhythms throughout Hear Me Out will keep you bopping your head in your car, apartment, house, shower, etc…
Song 2, Hear Me Out, the albums title track, is a moderately paced song slightly dark in its structure. The song sets up a scene of strolling down the sidewalk with a friend asking to be listened to. Streeter writes, "well life rolls on / as we're taking a stroll today / oh our lives look good / to the people we pass along the way / we take it day to day". The song is full of layered vocals and harmonies; the texture is rich and the song structure is traditional.
Song 3, One More Reason, is an introspective and slightly heartbroken song using an up-beat alt-country rhythm. This song is a little simpler then some of the other ones but the acoustic feel works very well with Streeter's voice. Lyrics like, "hey hey my life is ordinary / and I'm so angry / I can't believe", give the song breath-ability.
This album is Streeter's first solo attempt after ten years as front man in various bands. Experience is great when you only have a weekend to record the material for eleven songs. Hear Me Out comes together nicely for Streeter and relates to its listeners. A performer prepared to entertain us while we drink our beer. Cheers!
Your loving reviewer, BK
Tags:
album review
,
joel streeter