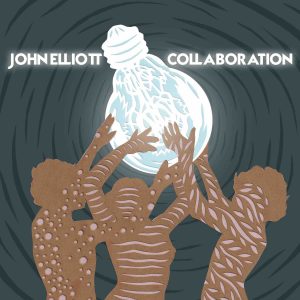 In an industry that seems to use "collaboration" more for legal purposes than artistic ends, it is refreshing to listen to an artist who uses the word as a synonym for creativity.
John Elliott's latest album Collaboration is a beautiful study of creative interpretation. However, the first song "Everybody Drinks and Drives in Heaven" threw me a little at first. It was cheeky, simple, and a little honky-tonk.  I appreciated the lighthearted tone, but it seemed to be a strange departure from his past work. Then I listened to his collaborator, Leslie Stevens' version. Two totally different songs. If you were to tell me Dolly Parton was singing, I wouldn't bat an eye. Elliott's version defines the purpose of the album; to use music as an expression of artistic individuality. What happens when two artists pen a song together and then go off to their separate corners and compose it?
'Everybody Drinks" is a beautiful introduction and proof to the theory that there is no one way in music. As the song ended, my expectation was that this was going to be a fun, satirical piece of work.
By track two I found myself in a much darker reality. The happy and sarcastic tone of "Everybody Drinks" was snuffed out as the first few keys of "If I Go, I'm Going" introduced us to a very familiar feeling: uncertainty. I felt like I needed a pint of ice cream and Adele to hold me close throughout this heartbreaking tale. I loved the image of the empty home, the falling shingles and the burning door. It was a beautiful metaphor and possibly my favorite track on the album.
A few songs later we stumble upon another jewel, "Come and Take it." The song speaks to the current predicament so often found in the working middle class. I kept thinking about Bob Dylan's "Gotta Serve Somebody." The message of "Come and Take It" parallels Dylan's 1979's Grammy winning hit, especially in Elliott's last verse ("When you come and take it son, you gotta take it all, the poison, the promise and the fall.")
The production of the album is stark and simple by design. Shying away from musical complexities, John Elliott's voice is both unique and haunting, keeping the listener focused on the story. It is a beautiful album, one that I hope you enjoy as much as I did.
I am also adding links to sample the other artist's versions of the songs they penned with Elliott. ( Leslie Stevens, Gregory Alan, Isakov & J Wagner, Rebecka Digervall, John Craigie, Bill Davis, Matt the Electrician, Shane Alexander, Ida Wenøe, and Adam Cox).
Obviously, Leslie Stevens is going to be a household favorite from now on. Matt the Electrician's take on "Accidental Thief" has me thinking it was written by Paul Simon, and Shane Alexander's take on "Hold me Helpless" has a very beautiful Jason Isbell feel to it. Collaboration opens us to the possibility of how  beautiful a song can be as it changes hands. The Alchemy of an artist is very unique, and I love how much this album goes at lengths to prove this point.
https://open.spotify.com/playlist/3pjeV0zUbBjvnOHqwF32xF?si=BtgFafJuTaqnAY4XMlC4lg
Tags:
album review
,
Collaboration
,
John Elliott